Claire – Mansfield, needed motivating to simply start moving, she followed the eating plan I gave her and trained using my online programs most days, this is her review and the fantastic result of 8 weeks work.
I hate exercise, really hate it. But I reached a point where I had gained weight and knew I couldn't shift it on my own, because I had tried every diet out there and while great for a quick fix the weight always ended up coming back. Sam is professional, he knows his stuff. He works me hard and I moan all the way through each session, but it has worked! I have lost a lot of weight, he did me a diet plan, which I have never once felt hungry on, and exercises to do at home as and when I can! I still hate exercise, but I do it because mentally and physically I have never felt so great! It has been a lifestyle change which I could not have done on my own. I really don't live for food anymore, my mindset is different now and I eat to fuel my body not to fuel my emotions. I really really recommend Sam!

Rob Kendrick – Berry Hill, wanted knowledge, to train hard, be motivated, improve his climbing, overall fitness and change his body. This guy followed everything I said to the letter, look what happened!
Training with Sam has been a great experience. He has taught me a lot about eating correctly and also how to perform exercises with correct form. Both of these have resulted in me losing weight and gaining more muscle. I look a lot leaner now and it is all thanks to Sam. He pushes me on each session and sets me workouts to do in my own time which keeps me motivated on my end goals. More than anything, Sam is just a genuinely nice and friendly guy. I'd recommend using Sam to anyone. Rob Kendrick.

Paul Blackmore – Sutton, wanted to change his shape, tried many times to get bigger but just ended up being fatter. wanted knowledge and something that worked. great progress so far after 6 months.
I'm 44 years old and looking to improve my fitness and appearance. I've trained with Sam now for 6 months and am really happy with my progress. He is professional and will push you so much further, than you ever would do yourself. I'm always spurred on by his positivity and energy.
He has a wealthy of knowledge on diet and will help shape a meal plan that suits you.
I really cannot recommend Sam enough, if you are serious, want a PT that is really going to help you make the changes, Sams your guy. 🙂 Paul Blackmore

Maureen O'dell – Edwinstowe, wanted to lose weight and be fitter not only in the short term but to maintain for life! 2 stone in 6 weeks and amazing body changes.
Maureen trains has trained with me twice a week for 6 weeks, at the point of this first picture below she had lost a huge 2 stone in weight and dropped a whopping 20cm from her waist, simply from eating healthy and completing my weekly training plans. she is working hard and this is what you can achieve. here is her review below which makes me soooo happy.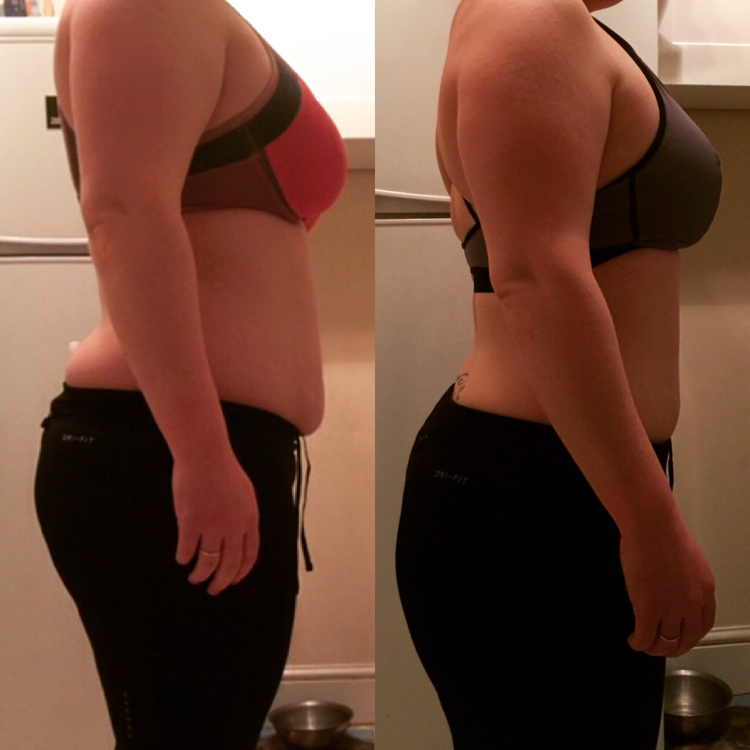 I first started training with Sam when I was the heaviest I had ever been. I was always hungry, always tired, my skin was awful and the horrible pains in my stomach had me convinced there was something seriously wrong. I had absolutely zero motivation and knew I needed someone to force me into exercise, so I contacted Sam. I had seen the photos on his facebook of transformations, read the reviews, basically did my homework and I was impressed. I knew I needed someone serious about his own fitness to guide me and Sam is nothing if not that.
The first session I was very unfit (two minutes into the warm up and I was gasping for air) but I felt good afterwards. As requested, after a few sessions I happily had my husband take my pictures, I had lost about half a stone through the training and eating right and I was absolutely horrified at how I looked. Fast forward 10 weeks, training twice a week and doing a few of the sessions at home Sam has put together for me, along with an eating plan and the changes are dramatic. I've lost over 2 stone and am toning up.
Sam is always punctual and enthusiastic.The sessions are always different, always challenging. He finds what works for you to keep you going. Sometimes its encouragement, sometimes it's tough love. He works around me and my schedule that changes weekly. He keeps in contact between sessions which is a lovely touch. He remembers when my weigh in day is and is as enthusiastic as I am when I get a loss (every week). When my wrist was acting up he even appeared with some wrist supports.
With Sam you really do get more than a personal trainer. You get advice on eating, a tailor made workout to do at home, you get a coach who supports you and cheers you on and someone who doesn't mess about. You WILL get results and you WILL get compliments and you WILL learn to love pushing yourself. It's just what he does, and he is the best at it.
As I'm sure you can imagine, my stomach troubles have dissapeared. I am no longer exhausted, I have bags of energy, I am getting stronger and fitter and want to exercise. The hunger is gone because I eat right and regularly. I am at my lowest weight in 5 years, my skin is glowing and all of this in 3 months?!
I can finally face myself in the mirror again.
I have a long way to go yet but if you're reading this because you feel like I felt then pick up the phone and contact Sam. He is worth every penny and you'll be wondering why you didn't start your journey sooner! MB
Laura Scrimshaw – Clipstone, wants to lose weight and tone up.